First, I would like to thank Mr. Mitchell and Blood-Horse for allowing me the opportunity to moderate the "Tracking Barbaro's Brothers" blog. I am both humbled and honored. I grew up in Connecticut and Vermont and currently call Connecticut my home. My father's farm in Vermont is where my love for horses all started at a very young age. Having different animals on the farm, including horses, the day he came home with a OTTB called Comanche was the day my fascination with anything and everything to do with horses started. Comanche would be my loyal companion for many years. I started to attend different race tracks in New England and the East coast when I was a teenager and continue to this day.
In 2005, a beautiful, talented and charismatic colt caught my eye - yes, along came Barbaro.
My connection to Barbaro started when I saw him win the Laurel Futurity in November of 2005. When I saw him win that race, I knew I had just witnessed perfection in motion. When I attended Barbaro's Derby in 2006, it was a thrill I will never forget, and I remember every moment like it happened yesterday. While I try to follow almost every race I possibly can around the country, I am particularly fascinated with Barbaro's family and their amazing connections. With that said, I would like to share my day I had with both brother's, Lentenor and Nicanor, this past Saturday. It was quite a day.
--Greg Jones
My Day with Barbaro's Brothers: Part I Lentenor
The day started when I left my house in Connecticut at 3:30 in the morning to begin my drive to Fair Hill training center in Cecil County, Maryland, home of Nicanor and Lentenor. A light rain started to come down about ten minutes before arriving; little did I know this rain would become a major factor as the day played out. When I drove into Fair Hill, I felt like I was entering a different world, situated in the countryside of Maryland, It is over 350 acres of equine bliss. After getting lost inside of Fair Hill, I eventually found my way to my destination, the barn where Lentenor was, Parlo 3, one of two barns owned by Mr. Matz (Vintage Farms). Inside, Lentenor was getting prepared to have his first official breeze since his last work on April 14th.
We then headed over to the clocker's tower to watch the morning works and waited for Lentenor to make his way over. He arrived with regular rider Peter Brette aboard, joined by a young talented filly named Martita Sangrita also owned by Roy and Gretchen Jackson. Mr. Matz was not far behind riding his horse, Messaging. Since it was raining, Lentenor's breeze was moved from the muddy dirt track to the tapeta surface, which isn't affected by the rain. They passed underneath the dirt track through a tunnel to get to the tapeta track, which is inside the dirt track. Even from a distance, Lentenor sure looked like he had grown and he seemed to relish the fact he was on the track doing what he loves to do, run, and run fast. He first galloped effortlessly by us, then proceeded to breeze an easy three furlongs, It looked like he floated over the surface with his long strides. If my day had ended there, it would have been well worth the trip, but, it was only the beginning of a day I won't ever forget.
After the work, we went back to the barn, and shortly thereafter, we went inside to greet Lentenor. Upon entering, I was taken aback on how spotless the barn was; I have never seen a barn that clean and well managed in my life. The whole time I was there, I never saw one fly; I am not joking, not one! If anyone has ever been in a barn before, that is unheard of. One could tell that being inside Mr. Matz's barn is pure heaven for these colts and fillies. I applaud Mr. Matz and his staff for maintaining this perfect environment. I then approached Lentenor's stall. I will say this, seeing Lentenor up close is quite an experience. I was in awe of how tall and muscular he has become since last seeing him in person at Aqueduct this past November. While he isn't close to being in racing shape due to his long lay-off, he still is a very impressive young colt. He had his legs wrapped in ice following his work (which is a common practice after a workout), and he seemed to love the attention he was receiving. While feeding him mints, his kind eyes would lull you into feeling very safe and then that mischievous youngster in him would come out, and if not careful, he would try to give you a quick nip just to keep you on your toes! After spending this incredible morning with Lentenor and other colts and fillies, it was time to head over to Delaware Park to see his older brother, Nicanor, race in the Sussex Stakes.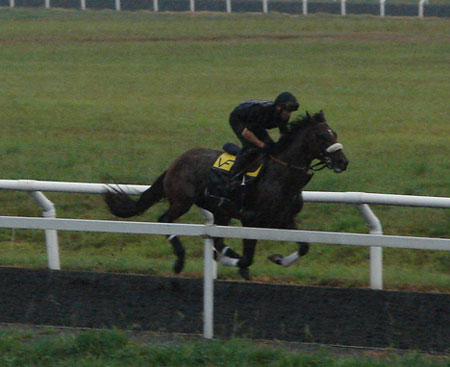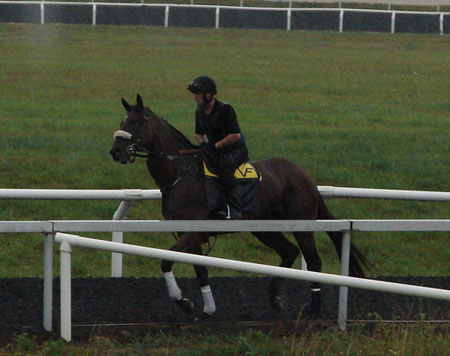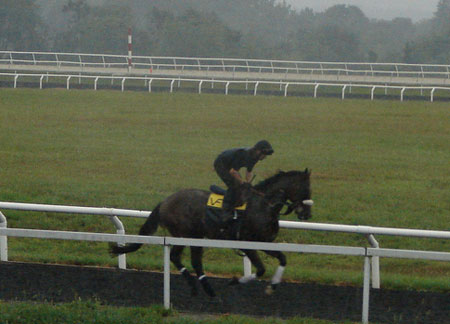 122 Comments: