First, I apologize for not updating the blog sooner. The last two weeks have been extremely hectic for me, and I just never had the time to update it. Thanks for being patient.
Just to clarify a few things up front, Nicanor did not bleed during his last race, and both brothers came out of their respective races in fine shape.
Lentenor and Nicanor both had their first works since those races this past week. Nicanor worked four furlongs on the dirt track at Fair Hill in :49.60 seconds, listed as "breezing." He was fourth out of eight that worked. Lentenor worked the same distance/same track in 50 seconds flat, also listed as "breezing," and was sixth out of the eight that worked that morning. I would expect, if a race fits either brother, to see both in a race very soon, maybe in the next couple of weeks. It would be nice if they were at Belmont Park, for completely selfish reasons, since that is the closest track to me.
Lentenor's race on the 24th of August was, IMO, a very good race for his first start since the Florida Derby on March 20th. When arriving at the track, as usual, he looked stunning. He appeared to be in perfect shape and seemed to have his game face on. He does seem more focused than Nicanor, more business-like, and he seems to know what his job is. While being saddled by Mr. Matz, he was very calm and seemed to be excited to be back at the track. It was nice to see the Jacksons and Peter Brette in the paddock area for Lentenor's return to the track.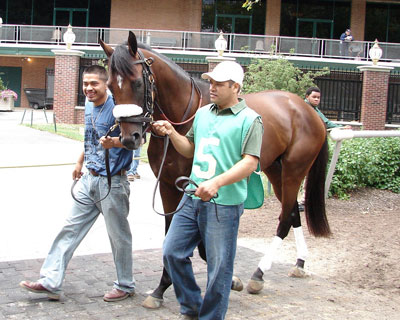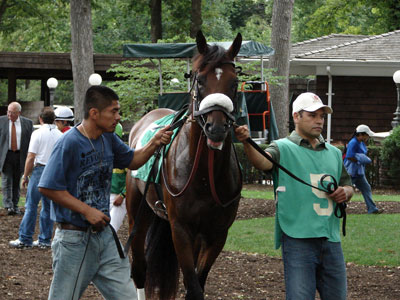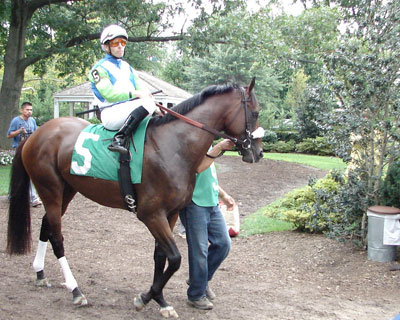 As for the race itself, all in all, it was a good race for Lentenor to get under his belt. He broke perfectly, showed good speed going into the first turn, and rated nicely in a stalking position in second. He was cruising nicely down the backstretch, but when coming for home he got squeezed and had to hold up, then re-rally for the finish. He placed third, a little over a length behind the winner, Inauguration, with Rosie Napravnik aboard. After watching the head-on after I got home, it was quite clear that he could not possibly have gone between the colts to his left and right. Jose Valdivia Jr. did a good job holding him up and getting Lentenor to wait and re-rally for his third place finish. He showed good speed, and I loved how he handled the shorter distance. I am under the impression that after his lay-off he needed this race to get racing fit. After the race, it was quite funny - it seemed like he wanted to go to the winner's circle and acted frustrated that Eduardo led him past it. All in all, a very good return for Lentenor. I fully expect him to get into the winner's circle in his next race.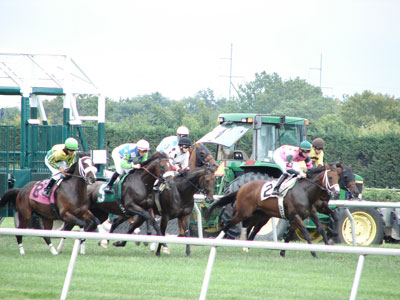 Now, about the enigma that is Nicanor. I say that with complete respect to him as he is a hard one to figure out! Just like his little brother, he arrived at the track looking impeccable. As usual, he seemed aggravated getting saddled up, which is the norm for Nicanor. Once again, the Jacksons were on hand in the paddock, and they also had Ready Set in the race (the eventual winner).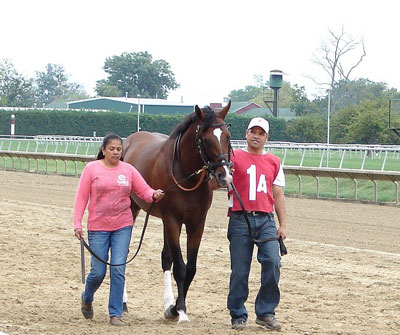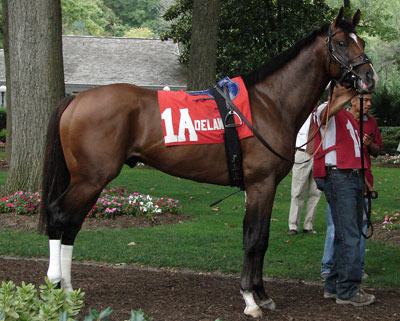 In Nicanor's race, the start was typical for him. He broke fast and went straight to the lead. Hugo, with Jeremy Rose aboard, flew by Nicanor before the first turn, which I believe was when Nicanor lost any chance of winning this race. Nicanor seems to be very stubborn, and if he doesn't have the lead, forget about it. This is not ideal, especially running on the turf, but it is what it is. Nicanor fought the jockey after getting passed, and that ended up costing him come stretch time. He did seem to rate down the backstretch in a stalking position but just had nothing left coming down the stretch. Ready Set, with Brian Hernandez Jr. on board, ran the race of his life and just got up for the victory, setting a new track record. Ready Set, wearing the Lael colors and trained by Ronny Werner, won for the fifth time in 27 starts, putting his career earnings at $731,029.
What is the answer for Nicanor? Your guess is as good as mine. It was only his tenth career start, so Mr. Matz still has time to figure him out, certainly much better than I can. Should he be in shorter races? A jockey change? Back to wearing blinkers? Only time will tell.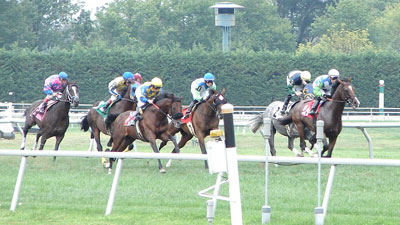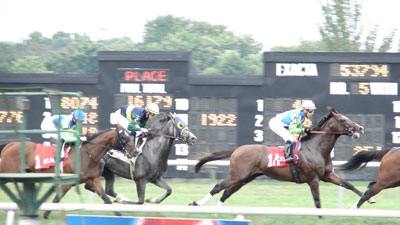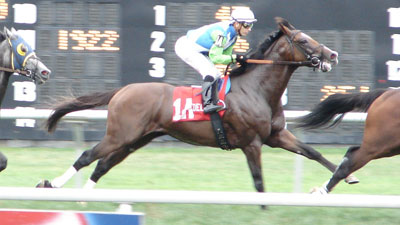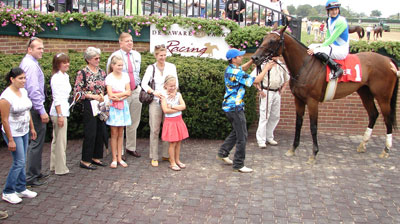 Finally, I would be remiss if I didn't bring this up. When I arrived home from Delaware, I noticed that Mr. Ray Paulick had written an editorial on the brothers. While I have the utmost respect for Mr. Paulick, I could not have disagreed more with what he wrote. The title was, "Nicanor & Lentenor: Just Let Them Be." To summarize, he said that it is "time to move on" and "to simply let them be horses," that there are other horses out there to follow and, "Maybe his younger brothers will perform better without the added pressure." This was written by the same person who, after Lentenor broke his maiden three races ago, had a headline on his website that read, "Lentescore! Barbaro's brother breaks turf maiden at Gulfstream." His first line was, "For all you Barbaro fans, we wanted to give you the opportunity to cheer on the next full brother of Barbaro after he broke his maiden at Gulfstream Park today." Then he included a link to the story on Bloodhorse.com. Well, Mr. Paulick, you cannot have it both ways. How can you promote Lentenor then three races later say it is time to move on? Also, those three races were a second place finish to Double's Partner, a fourth place finish in the Florida Derby, then, after a five month lay-off, his third place finish in his August 24th race.
Contradiction Mr. Paulick? I think so. Mr. Paulick says the brothers will perform better without the added pressure. I didn't know that Lentenor and Nicanor read this blog, or that they were or are aware of the so-called pressure the fans put on them. If so, they are more intelligent than I give them credit for. My sincere apologies to both brothers! The sport needs all the fans it can get, Mr. Paulick, and to say fans that follow the brothers should move on and support others is a reflection perhaps of your not knowing them very well. I honestly believe the fans of the brothers are capable of doing both. To take it a step farther, I know they do!
Finally, I will agree with Mr. Paulick when he said fans might put their energies toward both the Barbaro Fund and the Grayson Jockey Club Research Foundation, which I have provided links for. However, the fans of the brothers have been supporting equine causes for years, some before the Barbaro tragedy, others starting in 2006 when Barbaro was fighting for his life. They generously continue to do so to this day, considering their contributions to be part of Barbaro's Legacy.
Link to Penn Vet Laminitis Institute, Barbaro Fund:
http://www.vet.upenn.edu/PennVet/News/Barbaro/tabid/849/Default.aspx
Link to the Grayson Jockey Club Research Foundation:
http://www.grayson-jockeyclub.org/aboutDisplay.asp
Just to add, it looks like Lentenor's next race will be at Delaware Park on September 25 in the $250,000 Grade III Kent Stakes at a distance of 1 1/8 miles on the turf. As far as Nicanor's next race, stay tuned.
216 Comments: