Rain or shine, it looks like we will be given a post Thanksgiving Day treat with Nicanor hitting the track on Friday.
He is entered in the $60,000 Three Coins Up Stakes race at Aqueduct. The race is to be run on the Aqueduct turf at 1 1/16 miles. If the weather doesn't cooperate (60% chance of rain with temperatures in the 40's), it will be taken off the turf and be run on the dirt track at a distance of a mile. The race has a field of ten with two being main track only entries. Johnny Velazquez gets his first ride on Nicanor after riding Lentenor twice before. He rode Lentenor in his maiden win at Gulfstream Park on January 20 and had a second place finish with him in his next race, also at Gulfstream Park on February 17.
Looking at the field, it really is evenly matched, with the exception of two or three that seem to be out- classed. As we have come to expect, Nicanor will go straight to the front and try his hardest to keep the others from passing him. My biggest concerns are Bangalore Gold, Boots Ahead, and Wesley. If the race comes off the turf, it becomes increasingly more difficult for Nicanor and the others. Alma d'Oro and Slevin are added to the field if it does come off the turf. They would most likely become the favorites in the race if that were to happen. One other thing, if it is taken off the turf, Johnny Velazquez is named for the Todd Pletcher colt, Alma d'Oro. So, most likely Nicanor would lose Johnny Velazquez and a new jockey would be named to replace him. My guess would be Jose Valdivia would then get the mount on Nicanor.
So let's hope the race stays on the turf, Johnny Velazquez guides Nicanor to the lead, and they all come home safe, with Nicanor in the money, preferably in first!
This looks like the last race of the year for Nicanor before he heads south to Palm Meadows in Florida for the winter with his little big brother Lentenor joining him on the trip.
Hope everyone has a safe and Happy Thanksgiving!
$60,000 Three Coins Up Stakes, Aqueduct Racetrack, Race #8, 1 1/6 miles on the turf, post time 3:10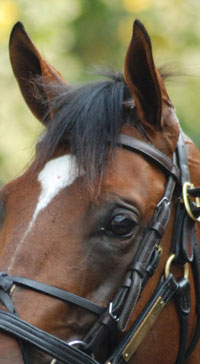 Nicanor at Belmont Park on Sept. 24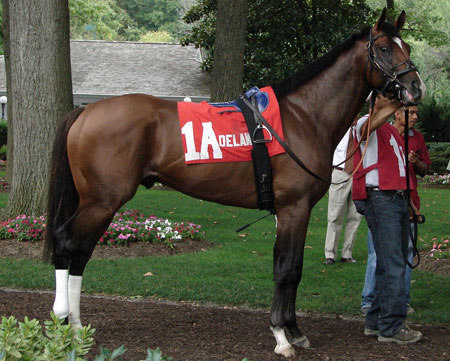 Nicanor at Delaware Park on Aug. 25.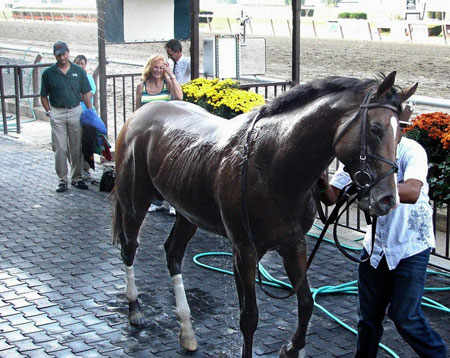 Nicanor leaving the winner's circle at Belmont Park on Sept. 24.
352 Comments: