Nicanor will make his five year old debut on Sunday in the $150,000 Canadian Turf Stakes (Grade III) at Gulfstream Park.
The feature race of the day, post time is about 5:26, and it is the 10
th
race of eleven on the card.
Nicanor will be making his first start in over three months, his last start being at Aqueduct on November 26, where he finished third in the Three Coins Up Stakes.
After taking a month off, he has had five published works at Palm Meadows training center, his latest on February 21
st
, where he went four furlongs in 49.70 seconds.
Julien Leparoux will be on Nicanor for the second time, the first being a 5
th
place finish in an allowance race at Keeneland on April 8, 2010.
In that race, Nicanor was coming into the race after a nearly ten month lay-off.
Nicanor easily could have had the lead, but Julien restrained him going into the first turn to race in second beyond the eventual winner, Unbridle's Dream.
He did finish 5th in this race, but, it was a blanket finish with the top five being within a length of each other.
Looking at this field, I really think it is anyone's race to win.
There should be plenty of pace, which might work against Nicanor on this day.
I do think Nicanor needs the lead going into the first turn if he has any shot at winning.
At this point in his career, it is quite obvious that Nicanor is a better racehorse with the lead.
In his four victories, he has lead at every point of call.
The drop back in distance to a mile should also benefit Nicanor, especially with this field.
The perfect example would be his victory at Belmont Park on September
24th.
On that day, Ramon Dominguez gave Nicanor a perfect ride by letting him run his own race, in the lead.
At the top of the stretch, Nicanor heard the others coming and hit another gear completely
on his own to take home the victory.
If Julien follows that blueprint, I honestly think Nicanor will hold the others off to get his first graded stakes victory.
If Julien puts the brakes on Nicanor early like he did at Keeneland, I don't think Nicanor has any shot at winning against this talented, experienced field.
The morning line favorite is the four year old gelding, Yankee Fourtune.
Trained by Kiaran McLaughlin and ridden by Victor Santiago, this horse is a perfect five for five on the turf.
He is also coming into the race off a lay-off, his last race was on November 13, where he won the Commonwealth Turf Stakes(Grade III) at Churchill Downs.
The second choice is the five year old gelding Zifzaf, which surprised me a little.
His last race was in the Grade I Woodbine Mile Stakes back on September 19, a race he led until giving way in the last eighth before finishing fifth(Court Vision won).
Ironically, Julien Leparoux had the mount that day.
Zifzaf is trained by James Toner, with Javier Castellano getting the mount.
Little Mike, a four year old gelding, is the third choice at odds of 5-1.
This is the horse that worries me the most.
He will, most likely, try to set the pace on the lead (along with Nicanor).
He is coming into the race in good form, with two starts on the Gulfstream Park turf this year.
He won the Grade III Ft. Lauderdale Stakes on January 9, going wire to wire to win by a nose in the 8.5 furlong race.
In his next start on February 5
th
, the Grade I Gulfstream Park Turf Handicap, he led until giving way the last eighth of a mile to finish 6
th
.
Joe Bravo will get the ride for the fourth time in a row on the Dale Romans trained gelding.
I believe those are the three biggest threats for Nicanor in this very evenly matched field, we shall see.
I don't think the lay-off for Nicanor will hurt him at all, he has been training well coming into the race and he is ready to get his first stakes victory, if he has the lead and stays out of trouble.
Here are the career marks for each in the field:
(Post Position, Horse, Starts, Wins, Seconds, Thirds, Earning's)
1. Society's Chairman, 25 Starts, 7 Wins, 5 Seconds, 5 Thirds, Earning's $ 674,521
2. Zifzaf, 10 Starts, 3 Wins, 0 Seconds, 3 Thirds, Earning's $ 139,900
3. NICANOR, 13 Starts, 4 Wins, 2 Seconds, 2 Thirds, Earning's $ 139,990
4. Twilight Meteor, 20 Starts, 5 Wins, 4 Seconds, 4 Thirds, Earning's $ 651,150
5. Dr. Smarty Jack, 15 Starts, 2 Wins, 4 Seconds, 3 Thirds, Earning's $ 108,819
6. Yankee Fourtune, 6 Starts, 5 Wins, 0 Seconds, 0 Thirds, Earning's $ 238,512
7. Little Mike, 11 Starts, 5 Wins, 2 Seconds, 0 Thirds, Earning's $ 215,970
8. Rogue Victory, 24 Starts, 5 Wins, 5 Seconds, 1 Thirds, Earning's $ 216,601
9. Tannersville, 12 Starts, 5 Wins, 1 Seconds, 1 Thirds, Earning's $ 154,035
10. China, 6 Starts, 3 Wins, 2 Seconds, 0 Thirds, Earning's $ 120,072
$150,000 Canadian Turf Stakes (Grade III, Race #10, 5:26 post time), 4 Years and Up, 1 Mile on the Turf
(Post Position, Horse, A/S, Jockey, Weight, Trainer, Morning Line Odds)
1. Society's Chairman, 8/H, Jose Lezcano, 117 pounds, Roger Attfield, 6/1
2. Zifzaf, 5/G, Javier Castellano, 117 pounds, James Toner, 4/1
3. NICANOR, 5/H, Julien Leparoux, 117 pounds, Mr. Michael Matz, 8/1
4. Twilight Meteor, 7/H, Alex Solis, 121 pounds, Martin Wolfson, 8/1
5. Dr. Smarty Jack, 5/H, Elvis Trujillo, 117 pounds , Michelle Nihei, 12/1
6. Yankee Fourtune, 4/G, Victor Santiago, 121 pounds, Kiaran McLaughlin, 3/1
7. Little Mike, 4/G, Joe Bravo, 121 pounds, Dale Romans, 5/1
8. Rogue Victory, 6/H, 117 pounds, Kent Desormeaux, George Weaver, 8/1
9. Tannersville, 4/C, 117 pounds, Luis Jurado, Henry Collazo, 12/1 (long shot that scares me)
10. China, 4/C, 117 pounds, Rajiv Maragh, Todd Quast, 20/1
Godspeed Nicanor…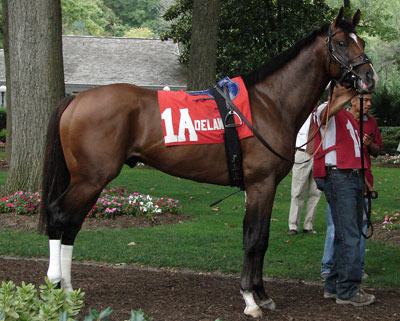 Nicanor prior to The Eight Thirty Stakes at Delaware Park, August 25, 2010 Photo by Greg Jones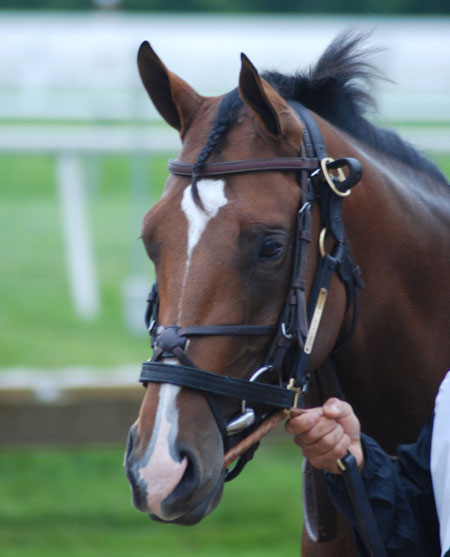 Nicanor prior to his victory at Delaware Park on June 16, 2009
Photo by Elaine Deutsch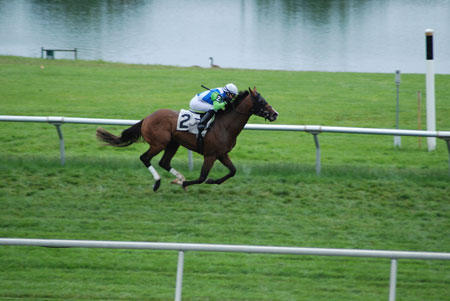 Nicanor winning at Delaware Park on June 16, 2009
Photo by Elaine Deutsch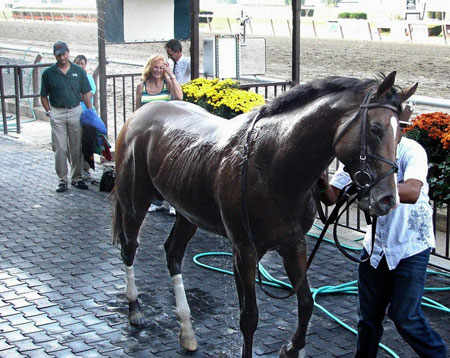 Nicanor exiting the winner's circle at Belmont Park, September 24, 2010
Photo by Greg Jones
258 Comments: