Once again, Barbaro's brothers are racing on back-to back days, but this time their roles are reversed.
Last month, Lentenor, in his first race back after a five month break, went first in an allowance/optional claiming race where he finished third. The next day, Nicanor went in the Eight Thirty Stakes where he finished in sixth place. This time around, we have Nicanor going first in an allowance/optional claiming race on Friday, then Lentenor going on Saturday in the $250,000 Grade III Kent Stakes.
Nicanor's race is at Belmont Park on Friday, Race #8, post time about 4:43. It is a $75,000 allowance/optional claiming race at 1 1/16 miles on the inner turf course. Nicanor is not entered for a tag. Nicanor will have Ramon Dominguez on board for the first time. Ramon is on fire at Belmont's current fall meet. As of yesterday, he is leading in earnings and has hit the board in 67% of his races. The race drew a field of seven, with Nicanor breaking from the sixth hole. Let's hope Nicanor breaks well and goes right to the lead and never looks back! This race, IMO, is Nicanor's most important to date. I am hoping that he will love the Belmont turf and, with Ramon's experience, have the best race of his still young career.
The morning line has Nicanor listed as the third choice at odds of 4-1. The favorite is Baletti at odds of 5-2. Baletti is a six year old colt trained by Angel Penna, Jr. Baletti does have a win on the inner turf course at Belmont, but that was back in May of 2009. Three races back, he won the Grade III Fort Marcy Stakes. However, since that victory, he was sixth (Grade III Monmouth Stakes, June 12) and fifth (Grade II Bernard Baruch Handicap, August 27). The second choice is Pleasant Strike, listed at 3-1 odds. This six year old Todd Pletcher trained colt is coming off a victory at Saratoga on August 25, also an allowance/optional claiming turf race. In that race, he beat out three that are in this field (Skipadate, No Inflation, and Lime Rickey). It truly is anyone's race to win. I think all seven are capable of getting into the winner's circle, just hope it ends up being Nicanor.
Friday, September 24th, Belmont Park, Race #8, Allowance/optional claiming race, Purse $52,000, 1 1/16 miles (inner turf), Post time 4:43
1. Skipadate/J. Castellano 5/1
2. Lemon Cream Pie/E. Coa 9/2
3. No Inflation/G. Gomez 8/1
4. Pleasant Strike/J. Velazquez 3/1
5. Baletti/J. Laparoux 5/2
6. Nicanor with Ramon Dominguez 4/1
7. Lime Rickey/R. Maragh 12/1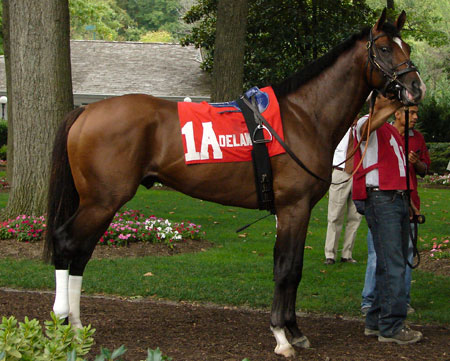 Nicanor prior to his race on August 25, 2010.
Next we have Lentenor's race on Saturday at Delaware Park, the 56th running of the $250,000 Grade III Kent Stakes at 1 1/8 miles on the turf for three year old colts. The race drew a small but very tough field of nine. The class of the field would have to be the Todd Pletcher trained colt, Interactif. Interactif is coming into the race following his win by a nose over the late charging colt, Grand Rapport, in the Grade II National Museum of Racing Hall of Fame Stakes on the Saratoga turf on August 13. Prior to that victory, Interactif finished a solid second to Paddy O'Prado in the Grade II Virginia Derby at Colonial Downs on July 17. Next we have Workin for Hops who comes into the race off a third place finish behind Paddy O'Prado in the Grade I Secretariat Stakes at Arlington Park on August 21. The Michael Stidham colt is all about consistency, hitting the board in eight of his nine starts, including five wins. A couple of those wins include the Grade II American Derby and the Arlington Classic Stakes, both run on the turf at Arlington Park. I will say this, watch out for Grand Rapport; he is coming into his own and should be closing fast down the stretch. After breaking his maiden in his first race, he finished seventh in the Grade II Futurity Stakes, then last in the Grade II Remson Stakes. All three races were run on the dirt. Following almost eight months off the track, the Gary Contessa colt seems to be in top form. He had his first race on the turf on July 16 at Monmouth Park, where he won at 40-1 odds, rallying from last and seven wide to win the allowance race. As I previously mentioned, he just barely missed in his last race, coming up a nose short to Interactif on August 13.
Lentenor has his work cut out for him in this race, that is a given. I like the fact that he is the only colt who has raced on the Delaware turf, and he has had three good works since his last race. Mr. Matz had named Jose Valdivia Jr. to ride Lentenor again, but he was injured last weekend, to what extent I have no idea. Wishing Jose the best in his recovery and hope to see him back on either Lentenor or Nicanor soon. Gabriel Saez has been named as the replacement for Jose. Let's hope Lentenor gets a clean trip and has some racing luck on his side, for a change. A safe race for all, and it would be great if Lentenor gets his wish and enters the winner's circle!
Should be an exciting couple of days once again for all the fans of Nicanor and Lentenor. First and foremost, let's hope they all come home safe.
Saturday, September 25th, Delaware Park, Race #8, $250,000 Grade III Kent Stakes, 1 1/8 miles (turf), post time 4:24
1. Grand Rapport/R. Dominguez 4/1
2. Interactif/F. Jara 2/1
3. Majestictroubadour/A. Delgado 20/1
4. Lentenor with Gabriel Saez 12/1
5. Stormy Lord/J. McAleney 6/1
6. They Call Me Giant/J. Rose 8/1
7. Kara's Orientation/E. Ramsammy 15/1
8. Thunder Brew/Rosie Napravnik 15/1
9. Workin for Hops/B. Hernandez, Jr. 3/1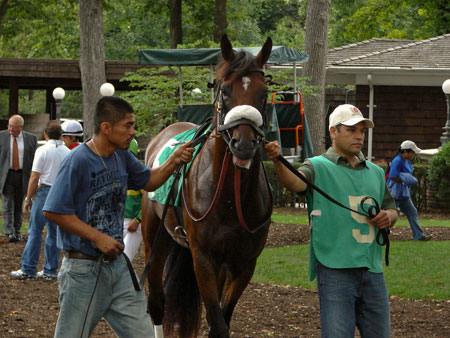 Lentenor prior to his race on August 24.
323 Comments: