February 29, 2008: that is the date we were introduced to Nicanor and the birth of this blog. At the time, it was written by my predecessor and called "Welcome to Nicanor: Tracking Barbaro's Brother." We were introduced to Barbaro's little brother, foaled March 15, 2006, meaning he was almost two months old when Barbaro won the Kentucky Derby. We have seen Nicanor grow up before our eyes, something that is unheard of in this sport. From the first photos of him at Stephens Thoroughbreds two and a half years ago, his first workout, his first race, his first victory, we have been blessed to watch this colt mature into the magnificent creature he is today. There are now three full brothers of Barbaro, but Nicanor was the second born from the union of the great Dynaformer and the wonderful mare La Ville Rouge. Sometimes it seems that Nicanor has had to grow up in the shadow of his older brother, Barbaro, that attention has been keen on him to replicate Barbaro's greatness. However, to me, Nicanor, like the other two (Lentenor and Margano), is and always has been his own horse. The pressure of following Barbaro's hoof prints may weigh on humans, but not on Nicanor. He knows who he is.
In February 2008, Nicanor was just at the beginning of his journey on the race track. To be allowed that opportunity, I, for one, am forever grateful to the Jacksons and the amazing team around Nicanor. On Sunday, October 31, Nicanor will be attempting to win his fifth race in twelve starts. To put that into perspective, over 30,000 foals are born each year. Of those, less than one percent actually earns a victory on the track. Nicanor has defied those odds and then some. Whatever the future holds for Nicanor after Sunday, I can honestly say, being a fan for over thirty years of this great sport, nothing has brought me more joy than watching this colt evolve before my eyes. Also, it just so happens that Nicanor and I share a birthday. I feel a very strong connection to Nicanor, always have, always will. With that said, I say "Bravo and Thank You" to Nicanor.
Here is a link to the first photos we saw of Nicanor, back on April 13, 2008, enjoy:
http://cs.bloodhorse.com/blogs/nicanor/archive/2008/04/13/long-awaited-pictures.aspx
Nicanor's next race is the $100,000 Labeeb Stakes, one mile on the turf at Woodbine (in Canada), Sunday October 31, Race #5, Post time 2:57.
Nicanor's race on Sunday at Woodbine is going to be a big challenge for him.
It drew a field of thirteen, and Nicanor will be starting from gate position two. Nicanor will be reunited with who seems to be his favorite jockey, Rosie Napravnik. Rosie was on Nicanor when he broke his maiden in stunning fashion at Delaware Park on May 13, 2009. He won that race by over fifteen lengths. Then Rosie and Nicanor teamed up again to win his next race out. Nicanor is entering Sunday's race off his most impressive victory to date, a win at Belmont Park on September 24. One couldn't ask for better timing. It really is no secret how Nicanor will run this race: out of the gate and immediately to the front, doing all that he can to save enough energy for the finish. There is a lot of speed in this race. If Rosie can get Nicanor on the lead and maintain decent splits, the stretch run will be a battle in which I hope Nicanor will show what he has learned, find that extra gear and hit that line first. It should be an exciting race, so let's see what happens.
I will go with Nicanor, Tybalt, and So Elite as my top three.
Nicanor before and after his victory at Belmont Park on September 24: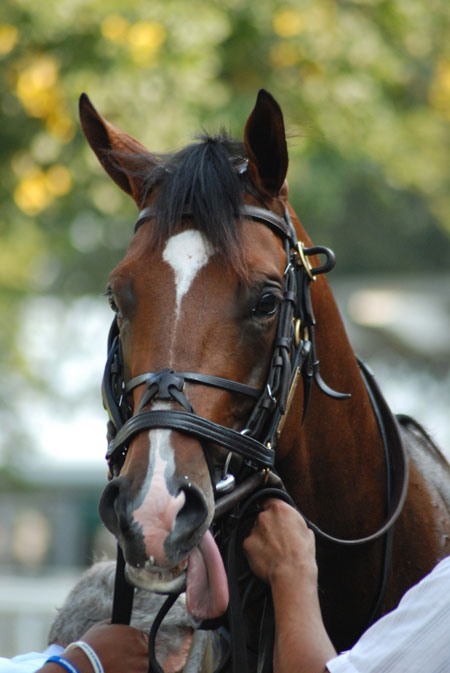 Photo by Elaine Deutsch
Photo by Elaine Deutsch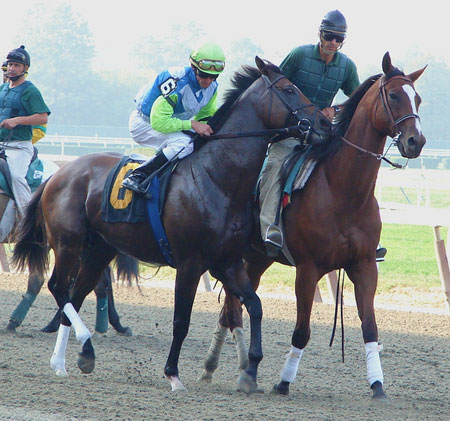 Photo by Greg Jones
Photo by Elaine Deutsch
Photo by Elaine Deutsch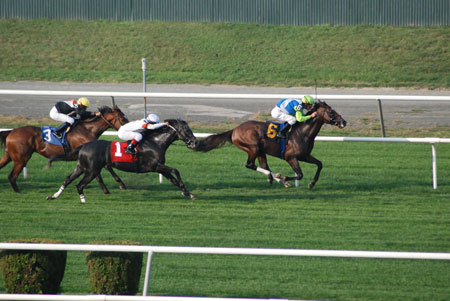 Photo by Elaine Deutsch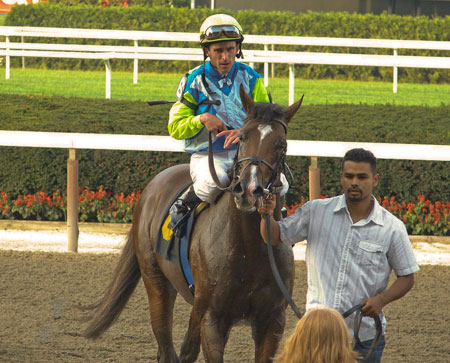 Photo by Greg Jones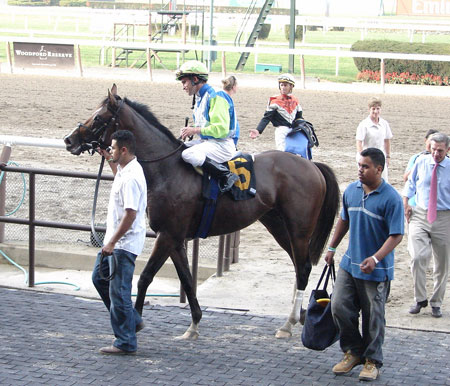 Photo by Greg Jones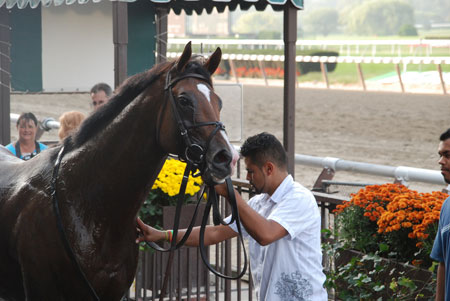 Photo by Elaine Deutsch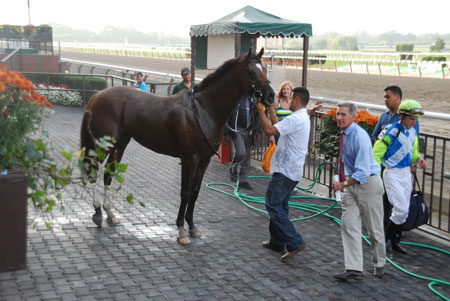 Photo by Elaine Deutsch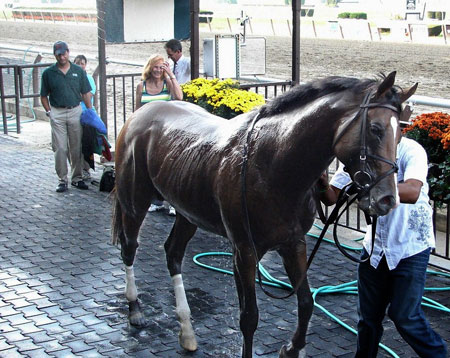 Photo by Greg Jones
204 Comments: