The date was October 14, 2000. A three year colt was making his debut at Santa Anita in a maiden special weight race. As for any first time starter, the sky was the limit and the possibilities endless. He came in sixth on that day, and he would continue to race at Santa Anita, Hollywood Park, and Del Mar for the next 15 months. In that time, he won one race in 13 starts, a $20,000 maiden claiming race at Del Mar on July 30, 2001, for his owners the Firmamento Corporation.
This colt would continue to race for over five more years, with his last race on February 10, 2007 at Rillito Park race track in Tucson, Arizona. On that day, he was entered for a claiming price of $1,500, finishing last in the field of six. With that race, he had just finished his career on the track at the age of ten. He had raced for over six years, having 56 starts, 8 wins, 6 seconds, and 6 thirds with earnings of $34,113. In that span, he was owned by three separate owners and raced at Santa Anita, Hollywood Park, Del Mar, Rillito, Turf Paradise, Yavapai Downs, Graham Fair, Cochise Fair, Santa Cruz, Flagstaff, and Gila Fair. From there, the story is more or less lost, as this colt struggled to stay alive.
Just last week, December 12, 2010 to be exact, this colt was found wandering about in someone's yard in the southeast corner of the Arizona desert, emaciated and barely able to move. His condition was so bad that he wasn't even a possibility for the state auction. At this point in his life, euthanasia would most likely be his fate. A last second phone call was made to a local horse rescue, Heart of Tucson, who agreed to take this brave colt under their wings and do all that they could to heal him or at least restore the dignity he so deserved. He arrived at Heart of Tucson in a very weak condition. He is malnourished, has horrific teeth, sores, and has severe rotten smelling abscesses in all of his feet. They are doing all that they can to bring him back to being a healthy colt once again. They say he is a sweetheart and has a strong will to live. Since this is the holiday season, with no prior knowledge of his racing name, the good people at Heart of Tucson named this colt "Gifted." Two days after "Gifted" was given his name, the people at Heart of Tucson ran his tattoo. His racing name was no longer a mystery.
His name is Dyna King, sired by Dynaformer out of the mare Rekindled, foaled in 1997.
By racing standards, I know he is not a half brother to Barbaro, Nicanor, Lentenor, or Margano, but they are still all connected by their father, Dynaformer. The sire of Gifted aka Dyna King being the same as Barbaro and his brothers, means to me that his story needs to be told, and the people responsible for his condition should be found and held accountable down the road.
What Dyna King has had to endure in the last four years must have been a living hell for him. I would like to think about his future rather than think what that hell must have been like for him. He has a long recovery ahead of him, and that is what I would like to focus on and for you to pray for.
This is indeed a story about the Spirit of Christmas. A horse near death found in the cruel barren desert is a miracle to begin with. His cries of suffering and anguish and pain sent from his heart as he wandered lost and alone, most likely just discarded by whomever was supposed to be caring for him, were heard, and he was rescued by…. HEART of Tucson. Heart of Tucson heard the Heart cries of Dyna King/Gifted. Now he needs another Christmas miracle – survival.
May we all remember that the true spirit of Christmas is giving. In the spirit of Christmas, while I know times are very tough for everyone, a small donation, no matter the amount, would greatly help Dyna King/Gifted on his long road to recovery. It is no coincidence that this brave and long suffering colt was named Gifted by Heart of Tucson before they ran his tattoo. Please help this great warrior and gentle spirit in his attempts to recover from his terrible physical condition by giving, by donating to Heart of Tucson. I have provided a link to Heart of Tucson's web page, as well as a link to their Facebook page, which will show you what they are all about to include that they have 501(c)(3) status, meaning your donations are tax deductible. You may donate by "snail mail" or pay pal. You certainly may donate after Christmas – maybe you will receive a bit of money and share it with this colt, son of Dynaformer, who is in dire need of help. Again, no amount is too small. Remember most of all the true Spirit of Christmas and that there are indeed Christmas miracles. This is one of them. He once was lost and now is found. But he needs the miracle of survival. God bless Heart of Tucson rescue!
I will be keeping everyone updated on his progress on the long road to recovery.
I, along with Dyna King and Heart of Tucson, thank you from the bottom of my heart!
Dyna King's pedigree:
http://www.pedigreequery.com/dyna+king
Heart of Tucson's website:
http://heartoftucson.org/index.html
Heart of Tucson's Facebook page:
http://www.facebook.com/group.php?gid=94549935886&ref=ts#!/group.php?gid=94549935886
Video of Dyna King/Gifted when he arrived at Heart of Tucson:
http://www.facebook.com/video/video.php?v=485316511519&oid=94549935886&comments
Video of Dyna King/Gifted on Youtube, December 12, 2010:
http://www.youtube.com/watch?v=Os0UWQ4BVVM
UPDATED VIDEO of Dyna King/Gifted on Youtube, January 1, 2011:
http://www.youtube.com/watch?v=GxSEobHD31Y
Photos of Dyna King/Gifted, taken by Mia Larocque on December 12, 2010: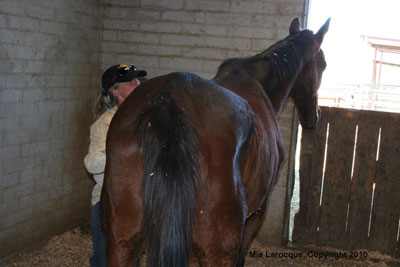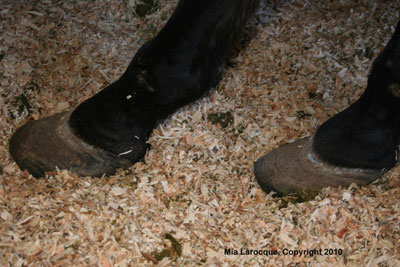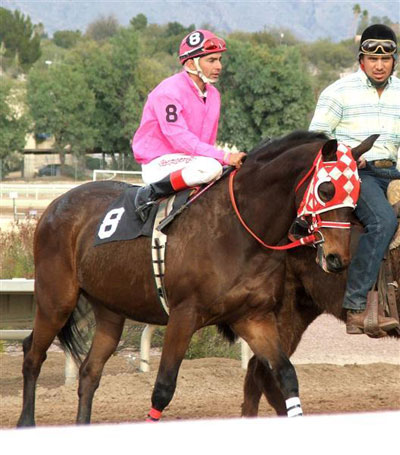 "Dyna King in his racing days"
---
The Following photos are courtesy of Carole Andreen-Harris.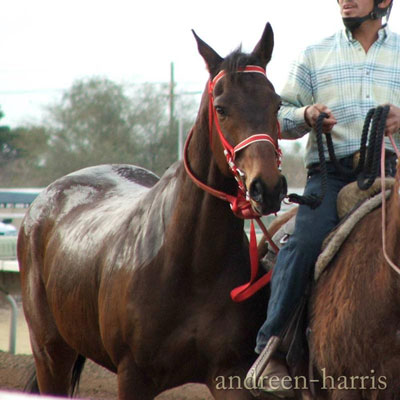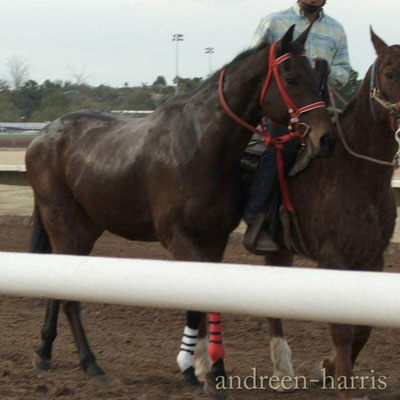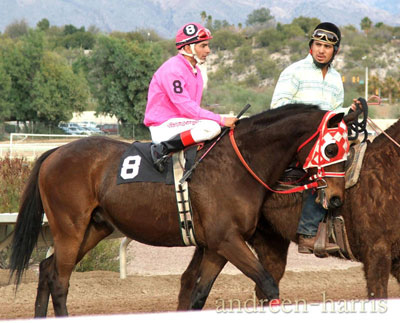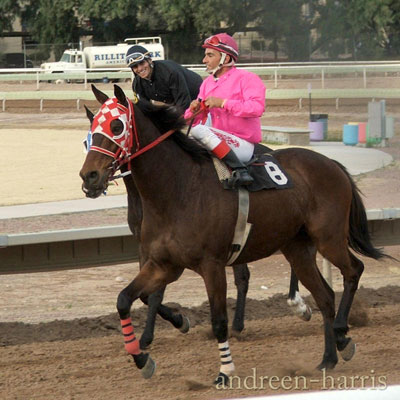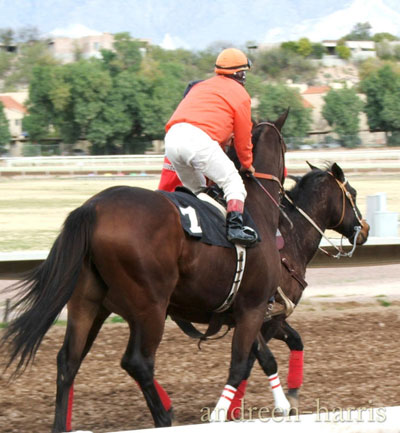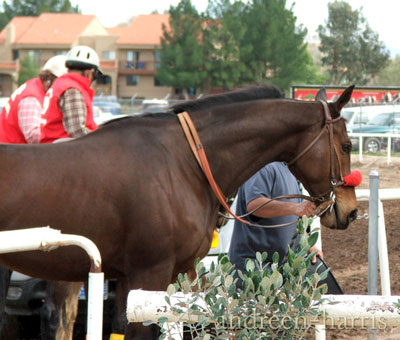 874 Comments: