Here we go again. Lentenor is entered in race #8 at Keeneland on Saturday, a $49,000 allowance race at 1 1/8 miles on the All Weather Track, post time is 4:52. Lentenor drew the outside position in the field of eleven. While I would have preferred a different gate, it shouldn't make that much difference due to the length of the race, I hope!
This will be Lentenor's second time racing on Keeneland's All Weather Surface. He started his career at Keeneland back on October 31 of last year, an impressive third place finish with Julien Leparoux on board. This time, Robby Albarado will get the mount on Lentenor; Julien will be on board the Christophe Clement trained colt, Alcomatch. Fans might remember Robby Albarado because he was Curlin's regular jockey, or when he finished third behind Barbaro in the 2006 Kentucky Derby aboard Steppenwolfer. Lentenor is in good hands with a jockey that has won over 4,000 races and knows the track at Keeneland. Looking at this field, it isn't nearly as tough as his last race but still a decent field. Lentenor should be the class of the race, but he does need to perform better than his 7th place finish in the Grade III Kent Stakes back on September 25. Since that race, Lentenor has had one work. It was this past Saturday on the dirt track at Fair Hill where he went four furlongs in :48.20. In that work, he fired a bullet by going the fastest of nine who worked, besting his big brother Nicanor by .40 of a second. Lentenor left his home at Fair Hill on Monday for his trip to Keeneland.
Up to this race, Lentenor's has hit the board five times in his seven starts, winning one and finishing second and third twice, including a fourth place finish in the Grade I Florida Derby with earnings of $84,010. A victory Saturday would put Lentenor over the $100,000 mark, fingers crossed!
A look at the field:
1. Running Tempo 20-1, this four year old gelding has had six career starts, hitting the board five times with two wins. His last start was a one mile allowance race at Presque Isle Downs on September 9th, finishing fourth in the field of six. Trained by Lori Smock and ridden by Carlos Montalvo.
2. Brave Prospect 15-1, has finished in the money four times with one victory in eight career starts. His last start was on August 29th at Arlington Park where he finished third out of six in the one mile allowance race. Michael Stidham trains this three year old gelding and Michael Baze will get the mount.
3. Spartan King 10-1, Miguel Mena will be on the four year old gelding, who is trained by Vernon Coyle. Spartan King will be making his sixteeenth start of his career. His most recent start at Presque Isle Downs on September 25th he finished well to get second place in the 1 1/8 mile allowance race. He has raced five times this year, having one victory, two seconds and placing third once.
4. Indianapolis 10-1, for some reason this four year old gelding worries me. He is trained by Kenneth McPeek and will be ridden by Calvin Borel. He won two races back in his 5th race of the year at Saratoga on August 5th, and it was his seventh try at breaking his maiden. Prior to that race, he came in fifth in his only start on the All Weather Track at Keeneland.
5. Heart Butte 7-2, this three year old colt is trained by Todd Pletcher and John Velazquez will be on him. He beat Drosselmeyer in his second career start at Keeneland on Oct. 24 of last year. That is his only win in five career starts, but he has had trouble at the start in a few races. He flattened out in the stretch in his last race at Saratoga on August 21st to finish in 5th place. He is surely one to watch, especially with a good start.
6. Bull Hole 10-1, Why would you name a colt "Bull Hole"? Anyway, this three year old colt finished sixth in Lentenor's return to the track on August 24th at Delaware Park, Lentenor ended up finishing third. Ramon Dominquez will be aboard this H. Graham Motion trained colt. Bull Hole finished second last out at Delaware Park on September 25. He has a career mark of one win and three seconds in seven lifetime starts.
7. Palatine Hill 20-1, a big step up in class for this three year old gelding. He did break his maiden in his first career start at Mountaineer on September 15th though. Greta Kuntzweiler will get the mount on this Eduardo Caramori trained gelding.
8. Alcomatch 5-1, finished last in a field of ten last time out at Saratoga on September 3rd , getting slammed at the start, which ruined any chance he had in this race. Two races back, he had another rough start, but finished well to get up for fourth at Saratoga on August 7th. His best race was at Keeneland on April 8th where he broke his maiden in convincing fashion, coming from far back to get up just in time. Watch for this guy to be flying at the end!
9. Yankee Scholar 15-1, Another three year old in this field that is trained by Todd Pletcher. Yankee Scholar broke his maiden in his fifth career start in his last race at Turfway Park on September 26. This will be a jump up in class and Joel Rosario will be his jockey.
10. Guys Reward 4-1, this three year old will be making his fourteenth start of his young career, hitting the board six times with one victory. He has been in some very tough races with good colts. Don't let his record fool you, he could be very tough. Trained by Dale Romans and ridden by Corey Lanerie, he is one to watch also.
11. LENTENOR 3-1, the class of the field, enough said.
After looking at the field, of course I believe Lentenor is the class of the race. I envision Robby taking Lentenor back in a good stalking position going into the first turn, hopefully mid pack. I don't see a lot of speed up front, so I expect Lentenor to stay close to the front down the backstretch. I think the biggest problem last race was that Lentenor was too far back and had too much to do going for home against a very tough field. He could get away with that against this weaker field, but I would prefer him to stay close, maybe even taking the lead going into far turn? Even if he is third or fourth coming for home, I think he can lengthen his stride down the stretch and pass this field and get the victory. My biggest concern isn't the field, but his trip during the race. There could very easily be traffic issues with the size of the field, if Robby can guide Lentenor free of that, then I don't see how he could lose this race.
Photos of Lentenor at Delaware Park on September 25:
Photos by Greg Jones.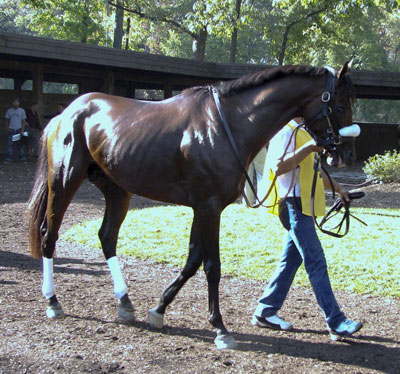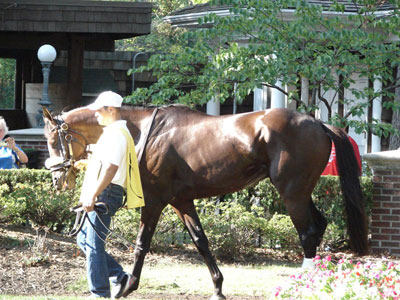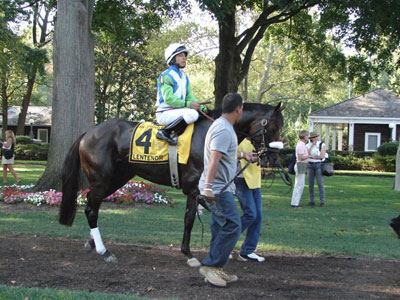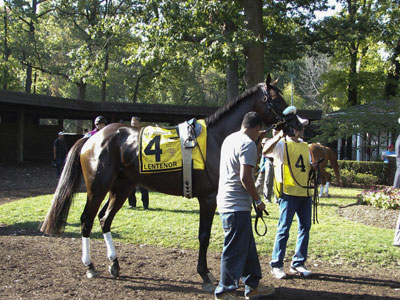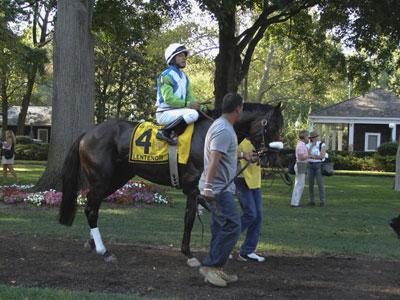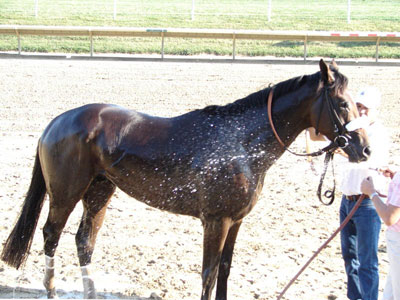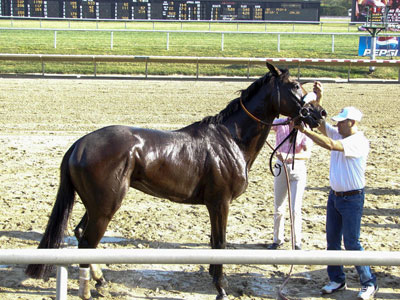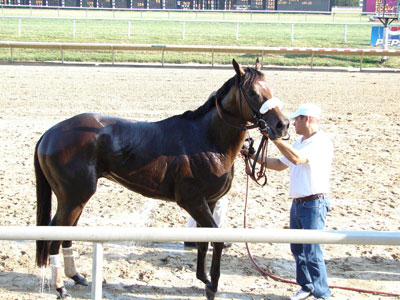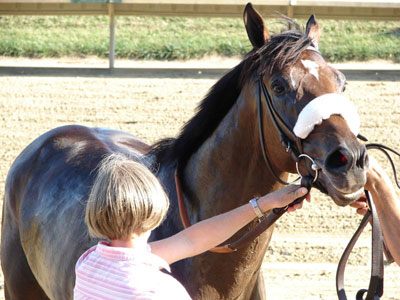 385 Comments: