In what should be a very exciting week, we have Lentenor and Nicanor both racing at Delaware Park, Lentenor on Tuesday and now his big brother Nicanor on Wednesday. This will be the first time the brothers have raced in the same week. For the Fans of Barbaro and his brothers, it just doesn't get any better than this!
First, we have Lentenor going in race eight on Tuesday, a $36,000 allowance/optional claiming race at seven and one half furlongs on the turf. This will be Lentenor's first race since finishing fourth in the Grade I Florida Derby at Gulfstream Park on March 20. After a break of five months since the Florida Derby, Lentenor has been working back into shape with five published works at Fair Hill Training Center, the first occurring on July 10th.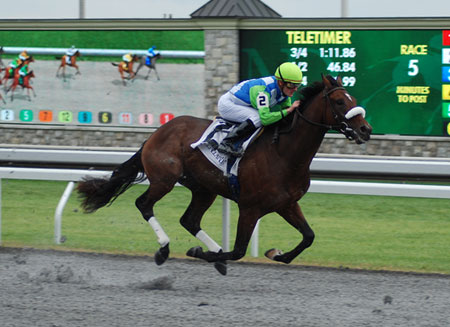 Lentenor in his debut race at Keeneland on Oct. 31, 2009
Photo by: Elaine Deutsch


Second, we have Nicanor racing on Wednesday in the eighth race, the $50,000 Eight Thirty Overnight Stakes at 1 mile 70 yards on the turf. This will be Nicanor's first race since his third place finish in the $100,000 Sussex Stakes on July 10th. After grabbing his quarter and running in the mud in that race, Nicanor did well to finish third against a more experienced field. Despite that third place finish in the mud, I am sure Nicanor's connections are hoping for good weather and the race to remain on the turf, since Nicanor was never comfortable on the sloppy track. Nicanor has had three published works since that race; his latest was on August 18, going five furlongs in 1:00.40 on the all weather training track at Fair Hill, coming in third of nine working that distance. The Eight Thirty Overnight Stakes drew a field of 13 with Nicanor breaking from gate #11.

Jose Valdivia, Jr. has the mount on both brothers, with both races having a post time of 4:24 p.m. Eastern time.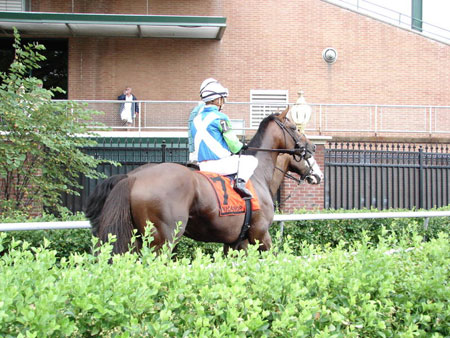 Nicanor before his July 10 start


I will be driving down to Delaware Park to see the brothers run, which should make for a thrilling, electrifying couple of days! Let's just hope it is two safe days of racing for all involved. How great it would be if Lentenor and his big brother both get into the winner's circle? Just hope the rain stays away.

218 Comments: