In less then four hours, Lentenor will be giving it his all at Keeneland in race #10, post time is 6:15 eastern.
The race came up with a very tough field of twelve, to be contested on the Keeneland turf at 1 1/16 miles, Jesus Castanon will be on board Lentenor for the first time. Jesus has two mounts today, the first being in the race prior to Lentenor's. In that race, he will be on Embur's Song, one of the favorites in the Grade One Spinster Stakes. Lentenor is in good hands with Mr. Castanon, a very solid jockey. Lentenor will be breaking from the one spot, with a large field, not an ideal spot for Lentenor at all. Just hope he can save some ground while stalking the leaders, then he can find a hole to burst through, we shall see.
What can I say? This field could easily be a stakes race, nothing will be easy for Lentenor today! With a morning line of 12-1, he is a huge underdog against this field. I look for him to run big, being third out, with a win and a third place finish, I have a gut feeling we will see a big effort from a physically and mentally fit Lentenor. At least I hope so!
While not having time to look at the field in depth, the three that stand out are J.B.'s Thunder, Rescue Squad, and a colt I really like, Gautier.
J.B.'s Thunder is looking to regain the form that earned him a victory in last year's Grade One Dixiana Breeders Futurity, a race that was on the Keeneland all weather surface. Shaun Bridgemohan will once again get the mount, he has been on board J.B.'s Thunder in all four of his previous starts. J.B.'s Thunder is the morning line favorite with odds of 3-1.
Rescue Squad will be racing after almost a year lay-off, his last start coming last November at Aqueduct. In that race, the five year old Dynaformer colt had the best race of his career. He finished second in the Grade Two Red Smith Handicap, posting his best speed figure in fourteen starts. Ironically, Jesus Castanon rode him on that day, Johnny Velazquez gets the mount today. Rescue Squad is the fourth choice in the race with a morning line of 9-2 odds.
Gautier is a Peruvian star, having won the first four starts of his career in Peru. This four year old colt will be making his fourth start stateside, having finished third in all those races. I expect a huge effort today, and he is actually the colt I have finishing in the top two, along with Lentenor obviously, lol. Manny Cruz will be on the Kenneth McPeek trained colt today, just like he has been in the three previous races. Gautier is the second favorite today, with odds of 4-1.
Those are my three top contenders for Lentenor today, with a few others that could also step up and run huge. One that I am hoping does well also is Oak Motte, a four year old colt that Edgar Prado will be riding.
Godspeed to Lentenor and Jesus today. Hope it is a safe race for all, and Lentenor will be seen in the winner's circle moments after the race!
The field:
1 Lentenor (KY) 4/C LA
Jesus Castanon 120 Leigh Delacour
2 Redboard (KY) 3/G LA C J Lanerie 117 G W Simms
3 Rescue Squad (KY) 5/H L J R Velazquez 120 C R McGaughey III
4 Perregaux (KY) 3/C L J R Leparoux 117 N J Howard
5

San

Antone (KY) 3/C LA J Graham 117 G R Arnold, II
6 Lighthouse Sound (KY) 4/G LA R A Dominguez 120 M J Trombetta
7 Gautier (KY) 4/C LA M R Cruz 120 K G McPeek
8 J. B.'s Thunder (KY) 3/C LA G K Gomez 117 A M Stall, Jr.
9 Oak Motte (TX) 4/C L E S Prado 120 K Gorder
10 Nikki's Sandcastle (KY) 4/G L R Maragh 120 D C Kassen
11 Fort Larned (KY) 3/C L R Albarado 117 I R Wilkes
12 Tonto Fontenot (KY) 4/G J K Court 120 B C Barnett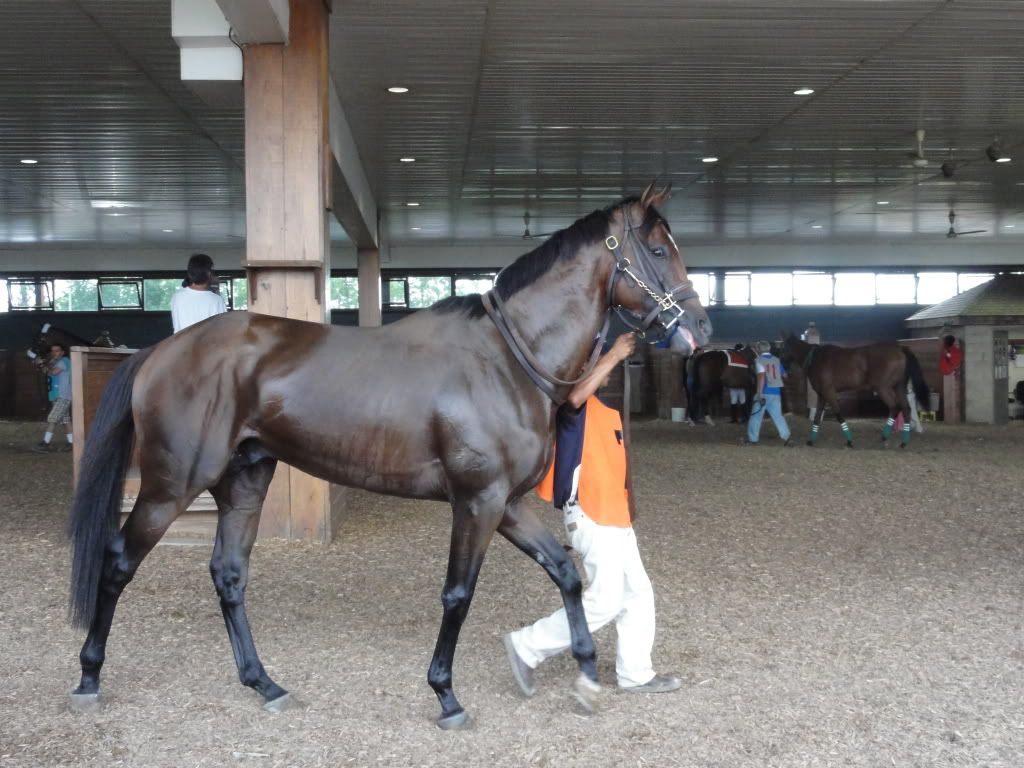 Godspeed Lentenor...