Margano, Barbaro's two year old brother, will be making his debut tomorrow at Belmont Park. His first race will be on the turf going 1 1/16 miles, a surface that his older brothers have had great success on, with Barbaro winning his debut race going a mile on the turf at Delaware Park, Nicanor winning his turf debut by over 15 lengths at Delaware Park, and Lentenor winning second time running on the turf at Gulfstream Park.
Am I a little surprised that Margano's debut will be at this distance? Quite frankly, yes, but, here is a quote by Robin Smullen (assistant trainer to Mr. Barclay Tagg, Margano's trainer) that explains their thinking on why to race Margano tomorrow at 1 1/16 miles, "He's physically ready to run, he's had a lot of works, he's mentally not quite ready, but you have to start somewhere, we were considering the six-furlong turf race next week, but Barclay and I talked about it and we felt that might run him off his feet. He's bred to go long, and I just think maybe he can settle a little bit and try to make a run and see where we are and hopefully we'll get him to where he's mentally ready." (courtesy of DRF.com)
So, after fourteen impressive work-outs at Belmont Park and Saratoga, including four gate works, one turf work at Saratoga, and a blow-out this morning at Belmont Park (Margano went Margano is as ready as he will ever be for his debut. Tomorrow cannot arrive quick enough for myself, and I am sure, for all the Fans of Barbaro and his brothers. While I am extremely nervous as the race nears, I have complete confidence that Mr. Barclay Tagg and his team have Margano physically ready to go. One must remember, a win isn't necessarily of the utmost importance tomorrow. Margano will be learning so much in a matter of just a few minutes as post time approaches. From the walk to the paddock (where he is quite familiar, since Belmont Park is his home), to the post parade, the crowd noise, the large field loading into the gate, and the experience of traveling over a mile on the Belmont turf. A lot to take in for a two year old colt, I would say. With that said, based on his works and bloodlines, a win would not shock me at all, just not expecting it.
For the first time in a race involving one of Barbaro's brothers, I decided not to look at the field in the race at all. I decided that I am going to enjoy the race with no preconceived notions regarding the other colts, I will say, this was not easy for me to do! I did notice that the pedigrees of the colts running are second to none, and the connections involved (breeders, owners, trainers) are all top notch in their respective fields.
Seeing Margano up close and personal for the first time is something that I have waited for, and, I cannot believe this day has finally arrived. The race tomorrow will be the seventeenth time I have seen Barbaro and/or one of his brothers race in person, but, this will be my first seeing a debut by one of them, which I believe adds to my extra, nervous excitement! Most importantly, I just want all to run a safe race, and for each colt to gain that experience that is so vital for two year olds.
Here is the field for tomorrows race, the last race of the day, race #10, post time is about 5:50, which will be the race following a Winter Memories victory in the Garden City Stakes (Grade I) !!!
P.P. Horse Jockey Trainer M/L Odds


1. Five Sixteen J. Sanchez D. Schettino 8-1
2. Deo Goes Rocky K. Singh R. Persaud 50-1
3. Which Market G. Gomez K. McLaughlin 8-1
4. Rock Harder A. Garcia N. Howard 10-1
5. Powerofone E. Castro W. Mott 6-1
6. Minestone K. Desormeaux D. Romans 8-1
7. Margano Jose Lezcano
Barclay Tagg 6-1
8. Dendrite I. Ortiz, Jr. D. Donk 15-1
9. Our Entourage J. Castellano T. Pletcher 7-2
10. Political Courage Joe Bravo Michael Matz 12-1
11. Gold Megillah A. Solis G. Motion 5-1
12. News Pending D. Cohen D. Romans 15-1

Also Eligibles:


13. Knock Rock D. Cohen S. Schwartz 4-1
14. Awesome's Eleven K. Desormeaux D. Stewart 8-1
15. Shkspeare Shaliyah J. Castellano D. Shivmangal 9-2
16. Yonder 'tis (MTO) A. Solis M. Hennig 6-1





*For those not able to attend or see the race on TV, here is a link to see the race live on your computer. Click on the link, then find and click on Belmont Park in lower right corner.

YOU ARE ONLY ALLOWED 30 MINUTES OF FREE VIDEO, THE RACE GOES OFF ABOUT 5:50, SO REMEMBER THIS!


Link:

http://espn.youbet.com/?utm_campaign=MustSeeBelSwps&utm_medium=ESPbanner&utm_source=YBESP
Margano back in April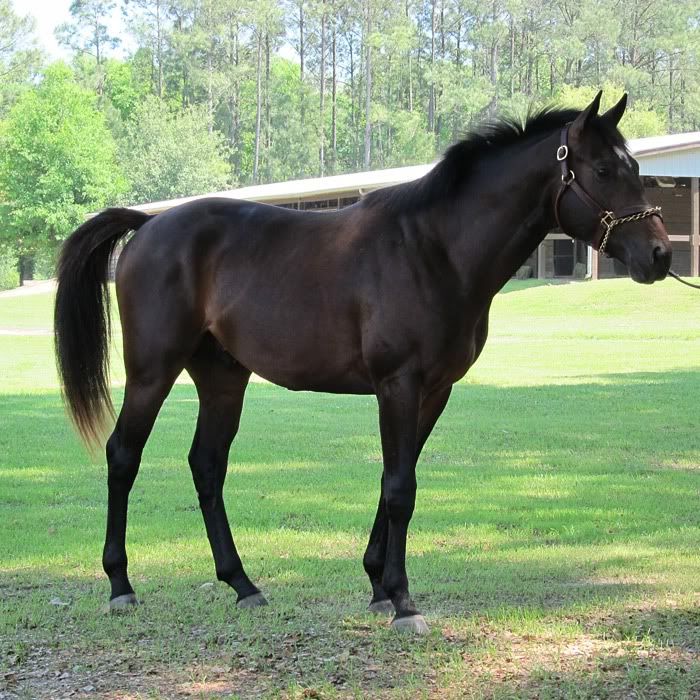 Nicanor, Lentenor, and Margano (far right)
Lentenor, Nicanor, Margano, and Barbaro
Godspeed Margano...