Being Preakness Week, which will bring up bad memories for racing fans, and especially for the FOB's, I figured this news would help ease the pain a little.
The news is in regards to Barbaro's little brother, Margano.
It looks like Roy and Gretchen Jackson have made the decision to have Margano join the barn of Mr. Barclay Tagg, who is home based at Belmont Park in Elmont New York.
Margano, a two year old colt sired by Dynaformer and produced from La Ville Rouge on March 10, 2009 at Mill Ridge Farm, is the full brother to Barbaro, Nicanor, and Lentenor. Also, Mill Ridge Farm reported today that La Ville Rouge is still very pregnant and due any day now!
Margano recently made the trek up north from Ocala, Florida. Just like his brothers before him, Margano started his training at Stephens Thoroughbreds down in Florida.
I feel for Mr. Matz and his staff, being that this is the first brother that won't be under their guidance, but in the long run, it might benefit all those involved. I just hope Margano gets the care and love that Barbaro, Nicanor, and Lentenor recieved from all in Mr. Matz's barn, they are a class act!
The Jacksons (Lael Stable) have had numerous horses under the guidance of Mr. Tagg in the past and presently have quite a few in Mr. Tagg's barn.
I would have to say, one of the more prominent horses the Jackson's trusted with Mr. Tagg was one of my favorites, the Champion Showing Up. Showing Up was a multiple Graded Stakes Winner, winner of the 2006 Grade II Coolmore Lexington Stakes, 2006 Grade I Secretariat Stakes, 2006 Grade II Jamaica Breeders' Cup Handicap, and the 2006 Grade I Hollywood Derby.
Showing Up also placed sixth in the 2006 Kentucky Derby, a race that Margano's big brother Barbaro won. In Showing Up's last race, the Grade 2 Maker's Mark Mile on April 13th 2007, he placed second behind another true Champion, Kip Deville. Showing Up finished his brief, but brilliant career, with a record of 10 Starts, 7 Wins, 1 Second, and 1 Third, with career earning's of $1,660,500.
I completely trust the judgement and faith that Roy and Gretchen Jackson have entrusted with Mr. Tagg and his staff. This could not have been a easy decision for them to make, but, if they think it is in the best interest of Margano, then that is good enough for me!
It will be exciting to see Margano begin his journey on the track as he matures into a racehorse.
Wishing nothing but the best for Margano, now and in the future.
Margano on Sunday, May 8th, at Belmont Park (he is on far right!)
(Penn's Grant, Coco Diamond, and Margano)
(
Photo by Nancy Rokos
)
Margano at Stephens Thoroughbreds on April 9, 2011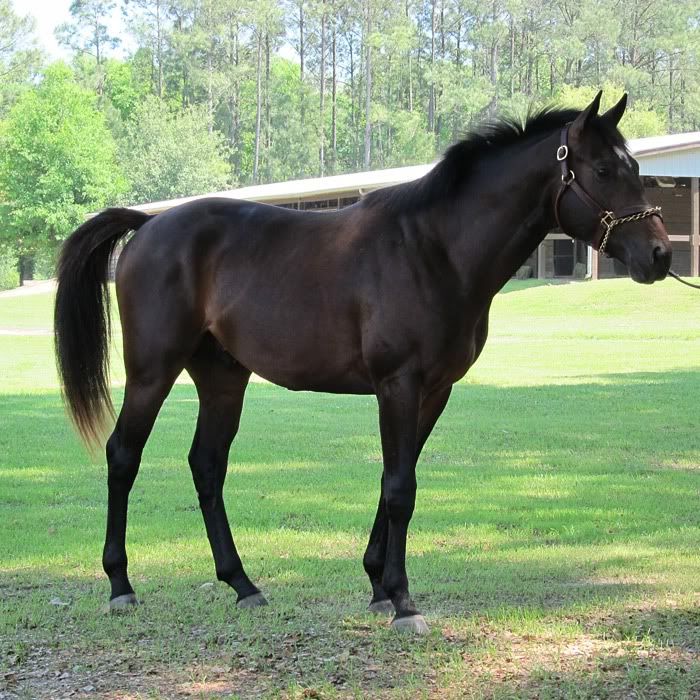 (
Photo by Kira
)
Striking a Pose (Mill Ridge Farm, May 13, 2010)
(Photo by Anne M. Eberhardt)
Romping in the field (Mill Ridge Farm, May 13, 2010)
(Photo by Anne M. Eberhardt)
Nicanor, Lentenor, Margano
Godspeed Margano...
*UPDATED*
Here is Margano's newest little brother, and their Mother, La Ville Rouge (Thank You to Mill Ridge Farm for posting the photos!)
Mill Ridge Website:
http://www.millridge.com/barbaros-family.aspx