Lentenor wins !
Setting a new track record in the process!
He went 1 1/16 miles on the firm turf in 1:40.95, sweet!
Chart:
http://www.equibase.com/static/chart/pdf/TAM122311USA7.pdf
(Thanks Mary and Greg for the photo and video!)
What a smart, mature, and very impressive race by Luis Garcia and Lentenor.
Jockey Luis Garcia:
"Everything came out perfect," said a beaming Garcia. "He got a clean trip and we got him to do what we wanted. He was just cruising, cruising, cruising, then I asked him at the end and he did it. I knew I had the horse so I was really just the passenger. He is a nice, nice horse."
Trainer Leigh Delacour:
"We entered him at Laurel before we came here but the race was off the turf and we scratched him, so this horse has been ready to run for more than a month," Delacour said. "I think Luis rode a superb tactical race. Congratulations to the Jacksons for being very patient with this horse. All the parts came together today."
Delacour said she expects the son of Dynaformer-La Ville Rouge to stay on the turf for the foreseeable future. "We tried him once this summer on dirt and he ran evenly, and you see today he finished his race well. When you see a horse show that turn of foot on the turf, it behooves you to keep him there."
Thank you to Roy and Gretchen Jackson, Arnaud and Leigh Delacour, and all involved for having Lentenor ready for this race, both mentally and physically, bravo!
A wonderful Christmas gift for all !!!
Merry Christmas...
It has been ten weeks since we last saw Lentenor on the track, a seventh place finish at Keeneland back on October 9th. The wait is over as Lentenor makes his return today at Tampa Bay Downs, racing in a $32,000 Allowance optional claiming race on the turf at a distance of 1 1/16 miles, post time is about 3:12 eastern time and is the seventh race of ten on today's card. Lentenor has been stabled at Tampa for just over a month and has been training well there, having recorded three published works, all on the dirt with the latest having him cover five furlongs in a breezing time of 1:02.60.
On a side note, for those wondering about Lennie's big brother Nicanor, he is also in Tampa and we should start seeing some recorded works from him very soon. If all goes well, Nicanor should make his return to the track as a six year old in late winter/early spring. Nicanor was given the time off since his last race back in May to have some time just to be a horse, call it a mental/physical vacation if you will.
Lentenor (#4), who will officially turn five years old in just over a week on New Years Day, will be facing nine rivals in the field of ten older runners. Luis Garcia will have the mount on Lentenor, they drew the four hole to break from, which I believe it is a good spot for the two of them. Luis rides quite often for Lentenor's trainer, Leigh Delacour, and should be a good fit for Lentenor (I hope). The turf should be fine, as today's weather calls for sunny skies with temperatures around eighty degrees. The field is a pretty big drop in class from Lentenor's last race at Keeneland and is reflected in the morning line odds, where Lentenor was made the second choice at odds of 7-2 with Beckham Bend being the favorite at 5-2 odds.
While looking at the field, I do believe everyone will be chasing the seven year old gelding Riversrunrylee(#7), who will be making his 67th start and is coming off two straight wire to wire victories. Both of the races were taken off the turf and run on the dirt at both Calder and Delaware Park. The question for Riversrunrylee, can he get the distance? I don't believe he will, and we will see him fade coming down the stretch. As far as the morning line favorite, Beckham Bend (#8), the six year old colt will be making his first start in eight months, having last race in April when he finished second at Gulfstream Park in the Island Whirl Stakes. I honestly don't see him being a factor after the long lay-off, I believe he will need this race and I don't see him finishing in the top three, we shall see. The wildcard in the race is the lightly raced three year old gray, Red All Over (#3). Making just his fifth start, Red All Over does have two wins, the latest coming at Churchill Downs in an Allowance race on the turf at a distance of a mile last month. If he runs back to that race, he could easily win this race, and at a morning line of 12-1, one could get a decent price on him (even though I fully expect those odds to come down). The one that scares me the most is the five year old gray gelding Blazen (#10). Blazen will be breaking from the tenth hole, if he can overcome that, he will be a force to reckon with. If we see Blazen near the top three early in the race, watch for him to make a strong move turning for home. He has run very well on the Tampa turf course in the past and he might be side by side with Lentenor, while in a stalking position most of the race. The question is, who will have the bigger kick at the end? My guess is Lentenor, with Blazen right there to finish a close second. Obviously, a lot depends on Lentenor getting a good trip and staying out of trouble. If that happens, Lentenor should be in a stalking position behind Riversrunrylee most of the race and come charging at the end to get his third victory in twelve starts and give his connections and all of us fans a wonderful early Christmas present!
With all that said, I see Lentenor earning a hard fought victory, with Blazen a close second, and Red All Over rounding out the top three (even though he could also pull out a victory). Bottom line, just hope it is a safe race for all and they all come out of the race safely!
Finish 4-10-3-7
Tampa Bay Downs, December 23, 2011
Race 7, Post time 3:12, Allowance Optional Claiming $32,000, Purse $21,400
One And One Sixteeth Miles On The Turf (rail at 22 feet)
P.P. Horse Jockey Trainer Odds
1. Presumptive A. Serpa R.S. Lerman 20/1
3. Red All Over M. Guidry W.M. Catalano 12/1
4. Lentenor Luis
Garcia Leigh Delacour 7/2
5. Bridging R.D. Allen, Jr. W.R. Helmbrecht 20/1
6. Feels All Right I. J. Rosendo Y. Belsoeur 6/1
7. Riversrunrylee L.A. Gonzalez J. Camillo 5/1
8. Beckham Bend R. Homeister, Jr. J.K. Chapman 5/2
9. Striking Hight H. Villa-Gomez D.H. Hinsley 20/1
10. Blazen L.R. Goncalves A. Pecoraro 6/1
11. Terriffico W. Martinez A.J. Exposito 12/1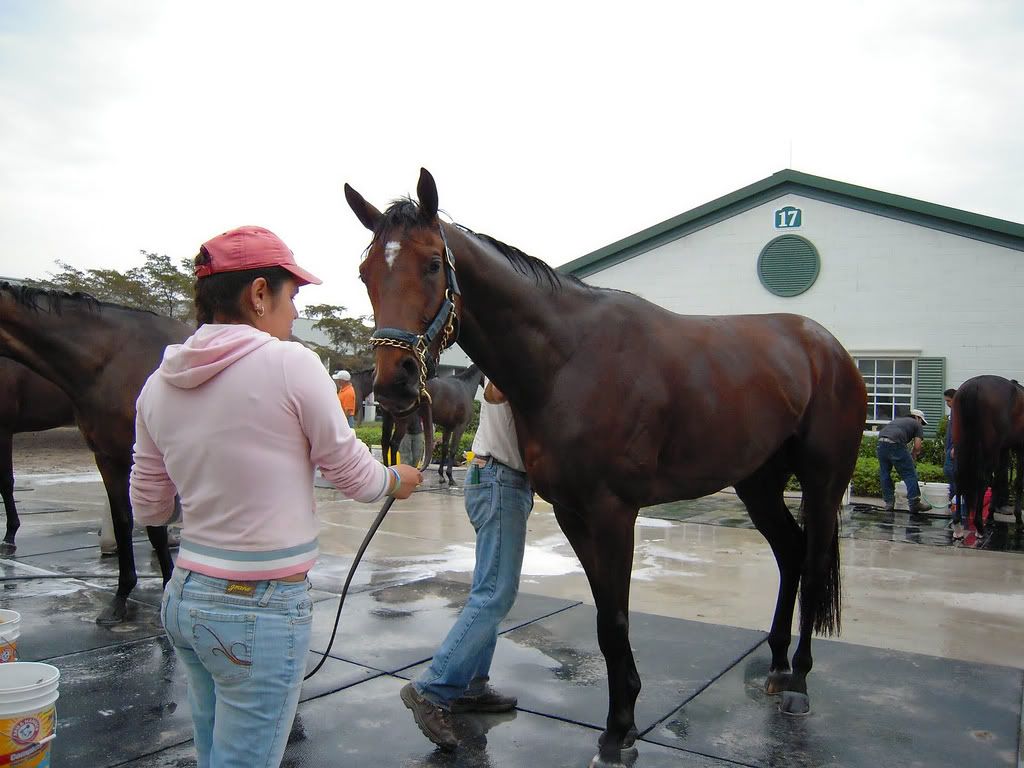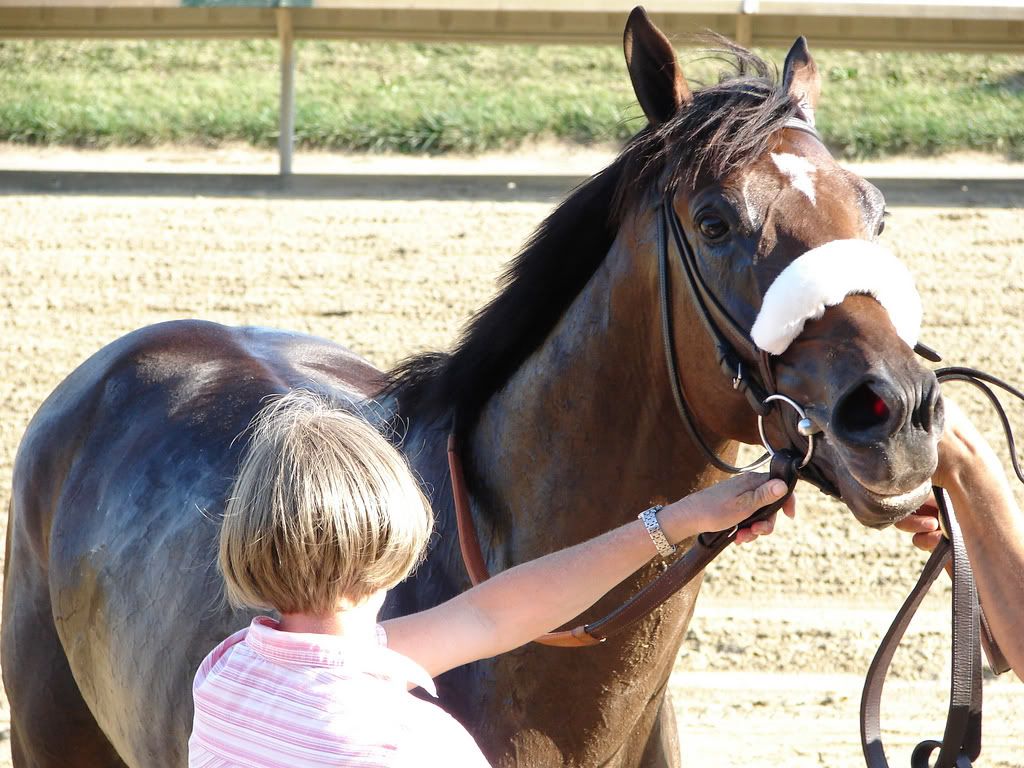 Thanks to my friend Dewey Ford for the following wonderful photos of Lentenor: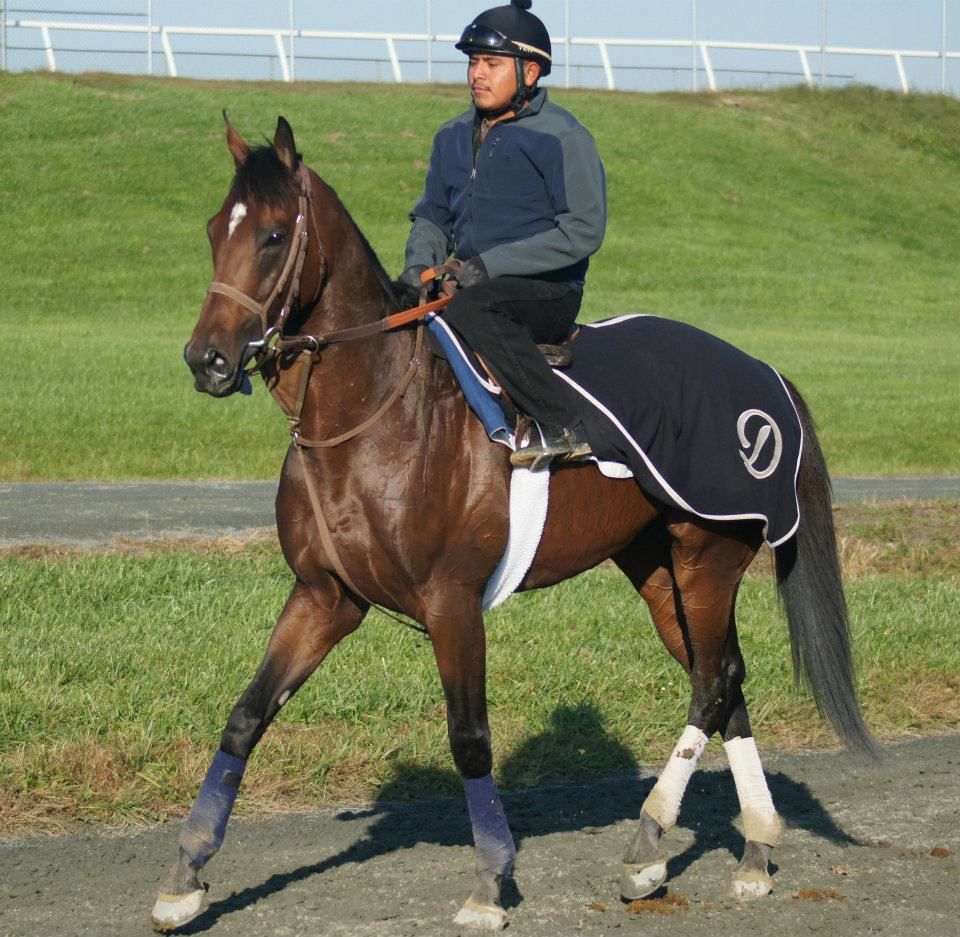 The race can be see on the following link live, post time is about 3:12 eastern time...
http://www.tampabaydowns.com/tampa-bay-downs-live-video.aspx
Godspeed Lentenor...